Lehigh@NasdaqCenter Classroom
The Lehigh@NasdaqCenter remote courses enrich the educational experience for Lehigh students by bringing Silicon Valley to Lehigh's doorstep. In addition to intensive, short-format courses offered in San Francisco, founders, funders, executives, and social innovators are live streamed via video conference from the Lehigh@NasdaqCenter to students on campus in Bethlehem, PA. Students learn from industry leaders with real-world experience, and tap into a powerful network in the Bay Area innovation ecosystem.
Featured Spring 2023 Courses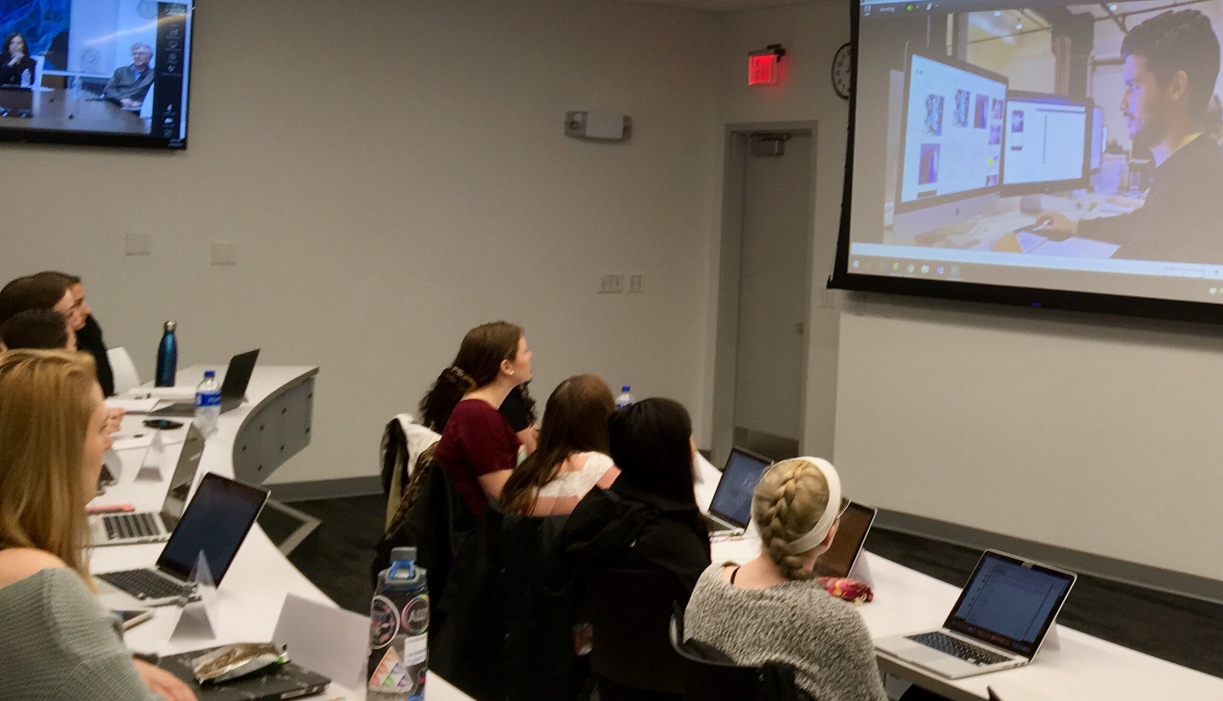 Lehigh@NasdaqCenter is offering two courses for Spring 2023! Inside the interactive sessions, students hear from and network with leading executives, founders, funders, and social innovators in Silicon Valley. The 1-credit, participation-based remote courses run for half a semester each, allowing students to optionally take both for 2 credits.  
ENGR-097: Women in Technology & Innovation
1 Credit • January 23 - March 10 • Thursdays @ 3:00 PM
Deep dive into the ways women promote prosperity and human progress through technology and innovation. Taught by Samantha Walravens, award-winning author and Forbes journalist, explore the challenges women in tech continue to face, such as unconscious bias and imposter syndrome — as well as broader equity discussions in Silicon Valley. During the 7 sessions in the first half of the semester, female tech leaders share their industry stories as a guidepost for success.
Past speakers include:
Amy Weaver - President & CFO, Salesforce
Jossie Haines - VP Software, Tile
Aimée Lapic - CMO, GoPro
ENGR-095: Disruptive Engineers
1 Credit • March 20 - May 5 • Thursdays @ 3:00 PM
Learn about the role engineers play in disrupting industries through technological innovation. Taught by Robert Abbott, experienced venture capital investor and Silicon Valley startup advisor, the course shines a light on the engineering leaders who have built companies and technologies changing the way we live and work. Taking place in the second half of the semester, meet guest lectures over 7 sessions who are proven leaders in their craft.
Past speakers include:
Tom Gillis - SVP & GM, VMware
Kathleen Egan - CEO, Ecomedes
Luis Dussan - Founder and CTO, Aeye.ai
About our Faculty
Samantha Walravens is an award-winning journalist and co-author of Geek Girl Rising: Inside the Sisterhood Shaking Up Tech. She writes about women, technology, career, and work-life issues for publications including Forbes and the Huffington Post.
Past Lehigh@NasdaqCenter Courses
The Lehigh@NasdaqCenter partners with faculty from all colleges to design and deliver courses that are distinctive to Silicon Valley and leverage connections with entrepreneurial leaders on the west coast. Examples of past courses include: