Lehigh@NasdaqCenter Classroom
The Lehigh@NasdaqCenter remote courses enrich the educational experience for Lehigh students by bringing Silicon Valley to Lehigh's doorstep. In addition to intensive, short-format courses offered in San Francisco, founders, funders, executives, and social innovators are live streamed via video conference from the Lehigh@NasdaqCenter to students on campus in Bethlehem, PA. Students learn from industry leaders with real-world experience, and tap into a powerful network in the Bay Area innovation ecosystem.
Featured Spring 2022 Courses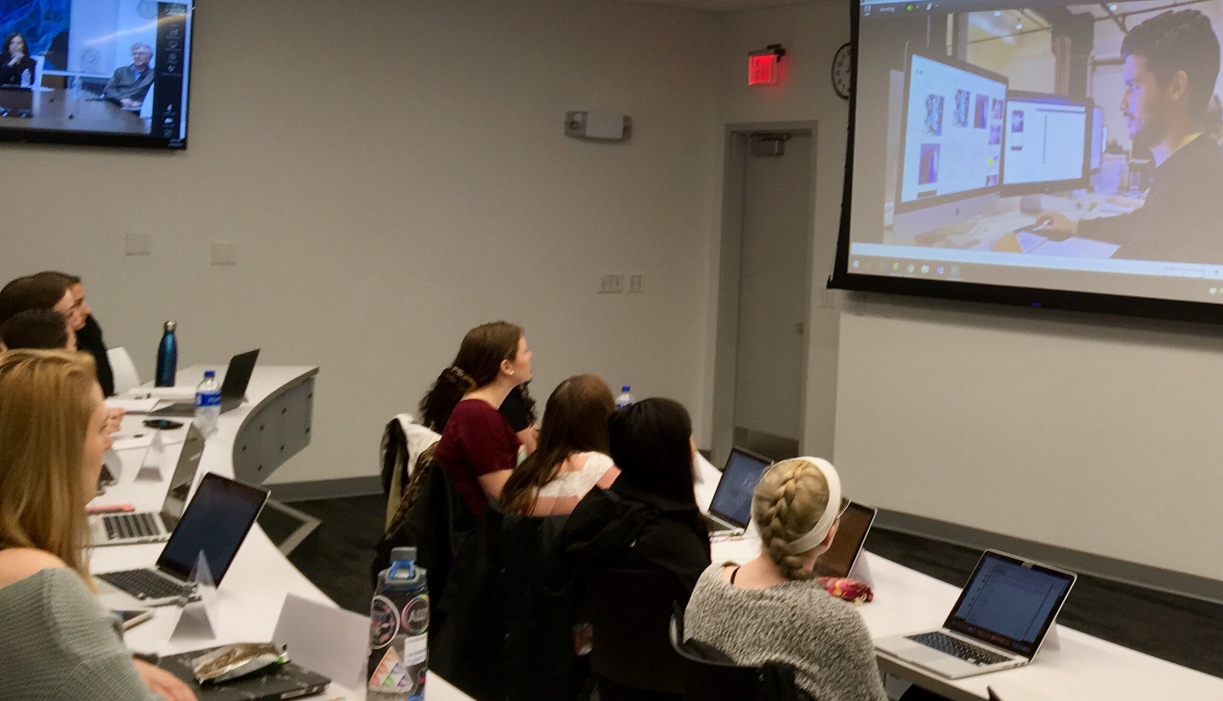 In Spring 2022, Lehigh@NasdaqCenter is excited to present two innovative courses on contemporary topics. These classes are delivered by Lehigh@NasdaqCenter in San Francisco, and students engage with faculty and industry leaders via interactive discussions. These dynamic and candid conversations are open for guests to attend as a webinar speaker series and select sessions also recorded and produced for the Lehigh@NasdaqCenter Podcast.
Women in Technology & Innovation
One of our most popular courses, Women in Technology and Innovation (ENGR 097), is offered again for the 6th year—with new speakers, fresh perspectives, and original ideas. The 1-credit seminar-style course meets online once a week on Thursdays from 3-4:15pm ET January 27 - March 10, 2022. Taught by Samantha Walravens, the course helps us explore the transformative role women play in promoting prosperity and human progress through technology and innovation. Featuring guest lectures by female founders, funders, and technology leaders, we shine a light on the remarkable women who are building companies and products that transform the way we live and work, and who are paving new paths for female entrepreneurship and gender equality.
Disruptive Engineers
Taught by Robert Abbott, an experienced VC investor and startup advisor, disruptive Engineers (ENGR 095) is a cutting-edge course developed with the Rossin College of Engineering and Applied Science. The 1-credit online class meets on Thursdays from 3-4:15pm ET from March 21 - May 6, 2022. This course looks at the transformative role engineers play in disrupting industries through technological innovation and exposes students to the innovative engineering leaders who have built companies and technologies that transform the way we live and work. The weekly class sessions will feature a number of guest lectures by engineering leaders who will share their stories and experiences on engineering and technology disruption.
About our Faculty
Samantha Walravens is an award-winning journalist and co-author of Geek Girl Rising: Inside the Sisterhood Shaking Up Tech. She writes about women, technology, career, and work-life issues for publications including Forbes and the Huffington Post.
Past Lehigh@NasdaqCenter Courses
The Lehigh@NasdaqCenter partners with faculty from all colleges to design and deliver courses that are distinctive to Silicon Valley and leverage connections with entrepreneurial leaders on the west coast. Examples of past courses include: