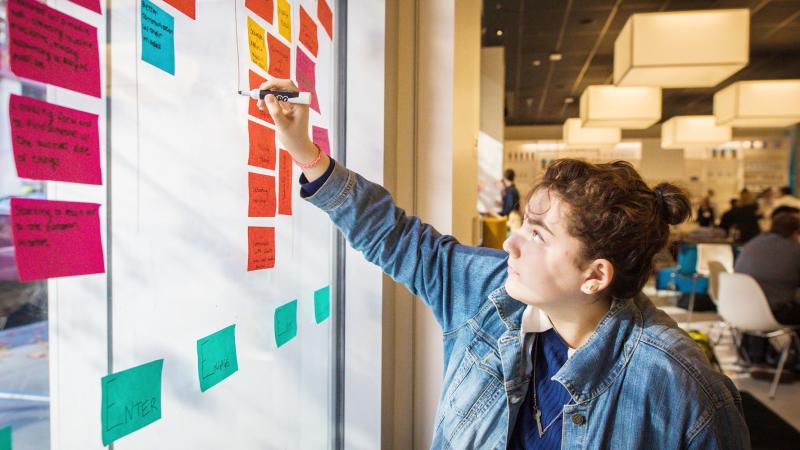 How Lehigh@NasdaqCenter Is Redefining – And Reinventing – Entrepreneurship
By Samantha Dewalt
Higher education is under growing pressure to teach students the skills needed in tomorrow's workplace, and it's failing. Again and again, we hear the claim that educational institutions move too slowly to keep pace with ever-dynamic companies, industries, and economies.
According to a survey from the IBM Institute for Business Value,* only 43% of the industry and academic leaders said higher education gave students the skills they need to join the workforce. An equally troubling study from the American Association of Colleges and Universities found that only one-third of employers believed graduates had prepared adequately to be promoted beyond an entry-level position or otherwise advance in an organization.
So if we fail to prepare students for the jobs of today, how can we possibly succeed in preparing them for the jobs of the future? Colleges and universities must rethink how best to equip students with the skills they need to take on anything in tomorrow's workplace and society in general.
We believe that the answer to this education-industry mismatch—and critical for our future prosperity—is to create an entrepreneurial mindset.
For this mindset to truly benefit individuals and society in the workforce of tomorrow, it must be far-reaching and inclusive. That's the solution.
That's why we founded Lehigh@NasdaqCenter, an exclusive education-industry partnership between Lehigh University and the Nasdaq Entrepreneurial Center that bridges the academic and professional worlds to prepare students with an entrepreneurial mindset and skills to succeed.
This holistic approach to entrepreneurial education, though more widely accepted, is still falling short. Certain barriers within the current education system hold students back from reaching their full entrepreneurial potential.
Entrepreneurship curriculum in higher education has traditionally focused on preparing students for venture creation. It's generally regarded by students as either marginal, irrelevant, or inaccessible. That's too bad because entrepreneurship can accelerate careers for students of all backgrounds, plus contribute to the economy and society.
What to do?
We have to redefine entrepreneurship, along with who qualifies as an entrepreneur. But it must first become inclusive and accessible to all students.
Lehigh@NasdaqCenter fulfills this purpose. Our inclusive entrepreneurial education, research, and thought leadership foster the all-important entrepreneurial mindset. Our students can succeed, whether launching new ventures, working for existing organizations, or as freelance professionals. We accelerate student transformation and societal impact. That's our purpose. That's why we exist.
Since its inception in 2017, Lehigh@NasdaqCenter has served more than 900 students through real-world entrepreneurial learning experiences and immersive programs ranging from the Global Entrepreneurial Fellowship,  Startup Academy, and Silicon Valley Innovation Internship to innovative courses like Women in Technology & Innovation, Dateline Silicon Valley, and Disruptive Engineers.
Together, Lehigh University and the Nasdaq Entrepreneurial Center in San Francisco are uniquely positioned to flourish at the intersection of education, entrepreneurship, and the future of work.
Our partnership co-designs educational experiences that develop the next generation of entrepreneurial thinkers and leaders for startups and business communities. We partner with startups like atlasGO, Modsy, and Uplift, as well as more established innovation companies like Sony R&D and VMware, to immerse students in real-world entrepreneurship. Students thereby gain valuable work experience as companies gain the creative energies of talented interns. These lessons deliver more reality than can anything taught in a classroom.
Our center educates, connects, and inspires the next generation of global entrepreneurial leaders. We empower all students, regardless of background or experience, to create lives rich in meaning. That's our mission. That's what we do.
Entrepreneurship programming deserves to be brought to the center of the educational experience. And no time will ever be better than now. At stake is nothing less than our students and the future of work itself.
#     #     #
Dr. Samantha Dewalt is the managing director of the Lehigh@NasdaqCenter.
* IBM's Institute for Business Value - Economist Intelligence Unit (2015)