Thursday, September 15, 2022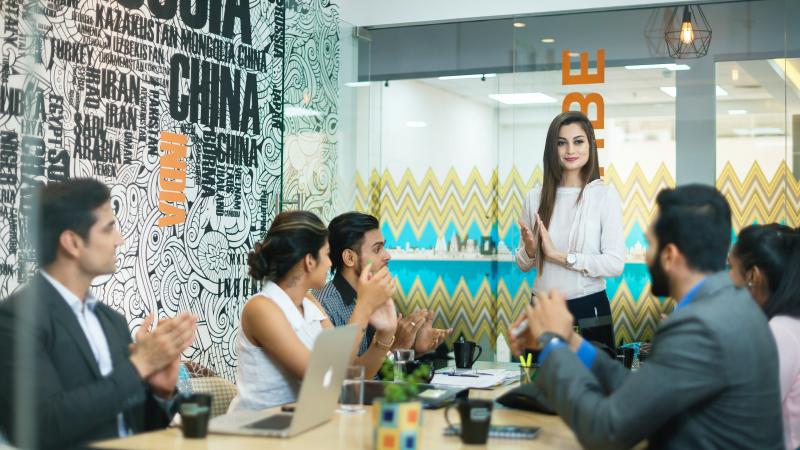 A shade over a year ago, our company gave Kathy Doan, an intern participating in Lehigh@NasdaqCenter's Silicon Valley Innovation Internship, exactly what every intern most wants coming out of college.
Her first full-time job.
After all, Kathy was a rock star. Today the 2021 Lehigh University graduate is a customer experience specialist (and recently authored a first-person column about her experiences for this blog).
Our fully virtual digital company, HumanQ, founded in 2019 and focused on unleashing human potential, is among the dozens of organizations – primarily startups – that regularly host interns from Lehigh@NasdaqCenter. Indeed, last year we hired two other interns from the center for part-time jobs.
I see our alliance with Lehigh@NasdaqCenter as an opportunity to do what we do – develop human potential and help individuals grow – in partnership with an amazing private university and the Nasdaq Entrepreneurial Center, based in the heart of San Francisco, a city almost entirely dedicated to entrepreneurs.
When industry comes together with an academic institution, tremendous power is harnessed. And that's what the center is all about.
By the way, students who serve as interns through the center's programs are hardly alone in benefiting. Host companies like ours benefit, too. 
Let's face it: as a startup, we can never have enough bodies. We always need to have more people willing and able to help with something. Through the center we gain access to fresh talent. 
I take the attitude that these interns are smart and hungry. They offer us a fresh perspective and new ideas. It's mutually beneficial: we get a chance to learn from them at exactly the same time they get a chance to learn from us.
But make no mistake: the interns gain valuable experience – experience otherwise unavailable anywhere else – in the bargain. Reading and studying about entrepreneurship in your dorm or classroom is wonderful. But joining a startup gives students access to a scrappy environment. It's an opportunity to accelerate the learning process. 
We create roles of significance for interns here. All our interns are expected to drive the projects assigned. They all conduct research, build a business case and evaluate ROI. They all get the opportunity to stretch. To truly own something. Nobody has to file documents or fetch coffee.
Interns are rarely used as they could be – rarely get to do meaty stuff – and it's a pity. Sometimes they're outright neglected. We've always treated our interns the same as we would a full-time employee. They need to be coached and mentored.
I strongly recommend that college students do internships with startups rather than established companies. They should ask themselves, "Do I want to go with a big corporation that's already conquering the world or get a chance to build something from the ground up?" 
In a startup, interns must be especially resilient and resourceful. They have to learn to hustle and persevere and get ahead of problems. It's different from collecting a secure paycheck.
At HumanQ, as at Lehigh University, students are trained to adopt – and refine – an entrepreneurial mindset. If I've learned any lessons from teaming up with all kinds of organizations – Deloitte Consulting, Apple, Cisco, Salesforce, Levi's, and Silicon Valley startups – it's that most entrepreneurial leaders are made rather than born. They never take no for an answer. They do whatever it takes.
I speak here not only as a startup CEO – we cater to Fortune 100 corporate leaders and mid-size companies among others – but also as a serial entrepreneur. Before HumanQ, I founded a clothing brand, dE ROSAIRO, to translate clothing into an elevated sense of confidence and power for women. And before that, I co-founded an adventure travel company for students.
That's why I got involved with Lehigh@NasdaqCenter from the start. I've given talks there, led classes, joined workshops about the future of work and served on the advisory board. It has always inspired me. In years to come, I fully expect that belonging to such a special place will remain an honor and a privilege.
#     #     #
Nishika de Rosairo is the CEO & Founder of HumanQ.