Wednesday, September 7, 2022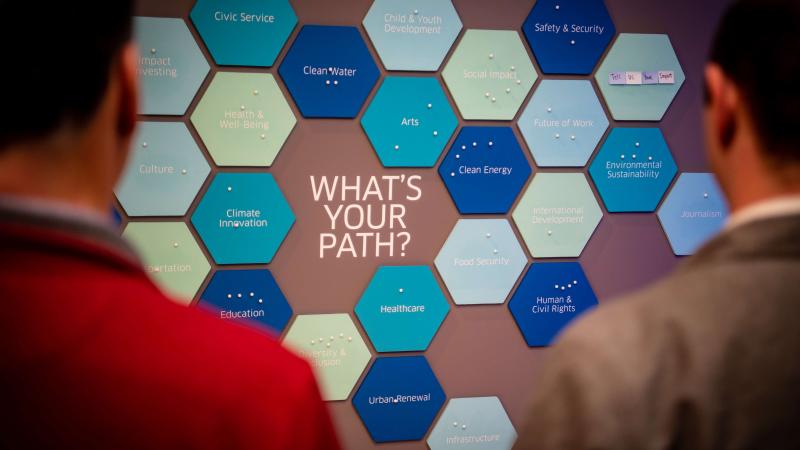 By Kathy Doan
Only a little over a year ago I was still a senior at Lehigh University, and even on the eve of my graduation, I was unsure what kind of career I was going to pursue. Fast forward to today… I've just celebrated my first anniversary working at a job I love!
It's hard for me to believe how much my life has transformed in barely a year. What made my new employment possible was my education and experiences in entrepreneurship. More particularly, I'm now thriving as an employee – and at a startup, no less – largely because I logged an internship at a startup during college.
Finding a professional home for myself took some zigging and zagging as my interests have always sprawled into many different areas. I've gotten involved in a lot of initiatives during college such as public health and global development. Back in the summer of 2017, for example, I devoted two months to teaching orphans in Thailand to speak, read and write English.
Throughout my four years at Lehigh University, I struggled to find a subject or field that really spoke out to me. I realized that I've always been a hands-on learner and often found it hard to find my passion learning out of a textbook or a lecture.
Luckily, the four internships I undertook in college pointed me in the right direction. But none made more of a difference to me than serving as a marketing and business development intern with Lapis Health, a health technology startup company, now renamed Oben Health.
In that 10-week internship – under a program called the Silicon Valley Innovation Internship, available through Lehigh@NasdaqCenter – I applied lessons learned about entrepreneurship in the classroom.
As happens in a startup, I got the opportunity to start and create from scratch. Lapis Health at the time had no marketing content, much less a marketing strategy or even a marketing team. That gave me a chance to step into the breach and take ownership of major responsibilities as the go-to marketing person alongside the CEO.
Toward that end, I designed a social media strategy, developed marketing content and implemented outreach campaigns to our multiple audiences (all while learning from inspiring Silicon Valley leaders). Our new approach connected Lapis Health with community health clinics, forged partnerships with micro-influencers and, above all, promoted the company brand.
What struck me more than anything was that throughout the experience, my voice was heard. My efforts felt extremely meaningful and fulfilling. I came away realizing that it's highly unlikely I could have achieved anything of scope if I had done my internship with a large, more bureaucratic organization.
That's mainly what Lehigh@NasdaqCenter is designed to be all about. It's a cross-country collaboration between Lehigh University in Pennsylvania and the Nasdaq Entrepreneurial Center in San Francisco, the first and only partnership between a higher education institution and a global nonprofit organization created exclusively to cultivate entrepreneurs for the workplace of the future.
Unlike most university-industry internships, interns from Lehigh@NasdaqCenter typically team up with a startup instead of, say, a Fortune 500 corporation. That means we're more likely to participate in – and directly contribute to – day-to-day business functions than merely to listen to and observe more experienced employees in action. We learn something we might be unable to learn in other settings, show what we can accomplish once liberated from a classroom and experience what working in a given organization might be like if we're hired.
While attending the Silicon Valley Innovation Internship program at Lehigh University, I met a guest speaker, Nishika de Rosairo. She spoke to us about her journey as an entrepreneur and how she had founded her company – Human Q (formerly Experiential Insight) – to unlock the potential of people around the globe. Human Q shifts mindsets, challenges paradigms and creates sustainable behavior, all by harnessing the power of group coaching, in order to help leaders become the best version of themselves.
Soon after, Nishika hired me as a customer experience specialist. Over the last year in my role at Human Q, I've leveraged the entrepreneurial mindset fostered through Lehigh@NasdaqCenter, especially from the Silicon Valley Innovation Internship program. As a case in point, I spearheaded the relaunch of our company platform, previously only a mobile app but now an app plus a web capability.
This project required a long process of high-level strategic thinking, testing and discussions. I tag-teamed with colleagues in tech and development to brainstorm how best to go the extra mile and deliver white-glove service for all of our customers. We ultimately reached our goal in advancing Human Q to the next stage of its tech growth.
My favorite feature of my job is getting the feeling every day that I'm having an immediate impact on people and the world around me. All of us at Human Q are encouraged to carry out strategic work, drive innovation and do the best work of our lives.
In the future, I want eventually to start my own business. Before that of course, I want to continue integrating a beginner's mindset into everything I do and accumulate a lot more hands-on experience. So right now, I'm going to go one step at a time.
Luckily enough, every step you take at a startup is actually much more like a leap.
#     #     #