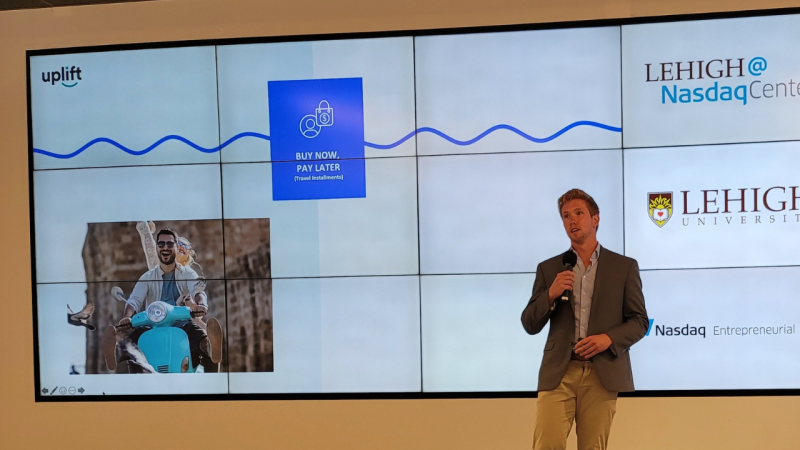 By Dr. Samantha Dewalt
Within only the last year or so, Connor Sept, a student in Lehigh University's Integrated Business and Engineering program, finally crystallized his ambitions for a career. The trend toward leveraging technology to solve large-scale financial problems had come to fascinate him. So he decided he wanted to work in fintech.
Now Connor will get the opportunity to do just that. A 2022 Lehigh University graduate, he recently landed a position as an investment banking analyst with Financial Technology Partners, the only investment banking firm focused exclusively on the financial technology sector.
Question: how did he get from there to here?
Answer: he participated in programs available only through Lehigh@NasdaqCenter, an exclusive education-industry partnership between Lehigh University and the Nasdaq Entrepreneurial Center in San Francisco.
Those programs, based on a philosophy of learning by doing through the lens of entrepreneurship, are the heart and soul of this unique partnership. Here's what they accomplish, how they work and why they're important:
Startup Academy
This summer internship program places top-talent business students in early-to-mid-stage startups in Silicon Valley. The students work alongside founders and entrepreneurial leaders on achieving milestones key to company growth.
By entering a high-velocity environment, they get to see firsthand how startups operate early on. This exposure to the singular culture of Silicon Valley – and to the entrepreneurial process itself – lets students apply the lessons learned in the classroom back at Lehigh University to real-world business problems.
Throughout, students are matched with alumni mentors who have relevant expertise. The program bridges the academic and the professional, creating an experience impossible to duplicate in a classroom.
Last year, for example, Lehigh University students majoring in fields ranging from marketing and economics to computer science and supply chain management interned with San Francisco startups such as ecomedes, Oben Health (formerly Lapis Health), and atlasGO.
During the 10-week program, interns attack complex problems and propose new solutions. In these real-world projects, they perform financial modeling and analysis to improve operational efficiency, design customer experience maps, create strategic marketing campaigns, and more.
Global Entrepreneurial Fellowship
Every summer 12 lucky students from all backgrounds and disciplines immerse themselves for eight weeks in an internship with a startup that could be located anywhere in the world. There, they get a once-in-a-lifetime chance to operate alongside company leaders, confronting real-world business issues in an entrepreneurial ecosystem outside the United States. Through this hands-on educational experience, they develop cross-cultural competencies that are unavailable merely through classroom learning yet so essential for success in a global marketplace. In recent years, Lehigh University students who majored in subjects spanning the spectrum from finance and computer engineering to accounting and international relations participated in the fellowship.
In this hybrid fellowship, students receive a generous stipend to cover the costs of living over the summer. The program also funds airfare and other travel expenses to entrepreneurial hubs around the world where startups host the students in full-time internships. The fellowship has placed students in internships with companies such as uGlobally (Netherlands), CoworkIn (India), Tenl.io (United Arab Emirates), and Zen Educate (United Kingdom), to name a few.
To cap it all off, the fellows deliver a live presentation on the big stage at the Nasdaq Entrepreneurial Center in San Francisco, highlighting the impact they made and lessons learned. This program is made possible through partnerships between Lehigh@NasdaqCenter and Lehigh's Baker Institute, as well as  global entrepreneurial organizations such as the Global Good Fund and Belong.
Silicon Valley Innovation Internship
Students intern remotely—for credit—on a project with an organization in Silicon Valley while learning about social impact, innovation, and entrepreneurship. The interns log 10 to 15 hours of work a week and also participate in a weekly class session that connects them with business leaders in Silicon Valley.
This program gives students the opportunity as early as sophomore year to gain professional experience and acquire valuable work skills. Through mentorship, group coaching, and career guidance, students can learn at an accelerated rate while still completing a full course load. Through this high-impact, applied learning opportunity, students develop an entrepreneurial mindset applicable both to flourishing in business and performing social good.
The Ever-Evolving Internship
The internship as we once knew it is largely no more – no more fetching of coffee or printing copies, thank you very much. Rather, interns increasingly tackle real-life challenges in real-life environments, gaining real-life experience with real-life advantages.
And internships available through Lehigh@NasdaqCenter are different from those available at most other higher education institutions. Our interns generally collaborate with startups as opposed to corporations. These students are more likely to get the opportunity to participate in and contribute to day-to-day business functions than merely to listen and observe. An internship with a startup is a deeper, broader experience all around.
In the best scenarios, interns learn something they can learn nowhere else. They get to show what they can do outside a classroom. They can get a feel for the dynamics of the workplace and startup life. They can sense what working in a given organization might be like if they're hired.
As it happens, today more than ever, internships mean business. According to the National Association of Colleges and Employers, more than half of all graduating seniors who served as interns and applied for full-time positions received at least one job offer.
But now back to how Connor Sept pulled off his leap from intern to employee. The Chapel Hill, North Carolina native participated in two internships through Lehigh@NasdaqCenter, all while majoring in financial engineering. He joined Uplift as a fintech capital markets intern through the Startup Academy and teamed up with Kyto as a medtech and lifescience investment research analyst through the Silicon Valley Innovation Internship.
"Those internships gave me the opportunity to know what field I wanted to go into," Connor says. "They provided me with meaningful experiences that helped me land my job. I made connections and stayed in touch with my mentors and learned skills that I know will serve me well."
Indeed, Poets & Quants for Undergrads, a news site covering business education, named the business major among its list of "best and brightest." His advice to a student looking to major in a business-related field? "Get involved early. Take the initiative to network. Expose yourself to as many career paths as possible."
Now off Connor dashes to his new job as an investment banking analyst. Feel free to wish him luck. But the question is, will he actually need any?
#     #     #
Read about what other Lehigh@NasdaqCenter graduates are up to post-college here.
Dr. Samantha Dewalt is the managing director of the Lehigh@NasdaqCenter.