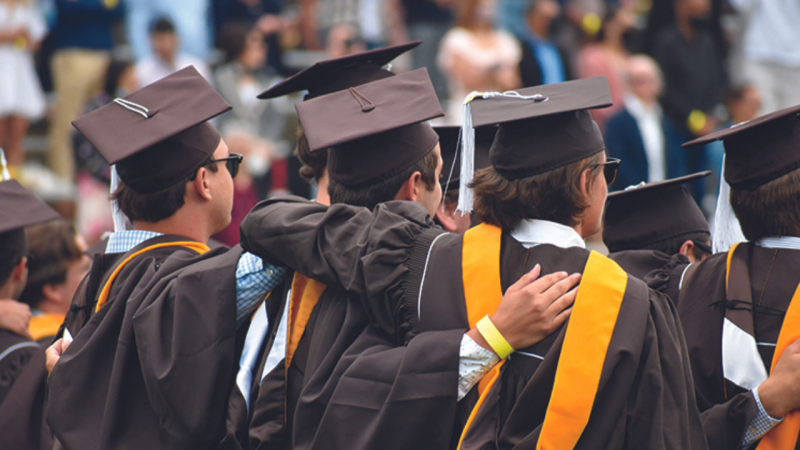 What's Ahead for Lehigh@NasdaqCenter Alumni
By James Berneking
Off they go now. They've come fresh from commencement ceremonies, these graduates turned alumni, students who will soon be employees, trading the campus for the workplace, the classroom for a career.
That's how it is for the class of 2022 emerging from Lehigh University this month and, more particularly, the Lehigh@NasdaqCenter. Many of the grads will be on the move to new cities and even new countries. Some will join well-established companies, while others will venture into start-ups.
All of the grads will enter the marketplace with highly developed entrepreneurial mindsets. And all can connect the dots between the education they've received and the jobs now awaiting.
Take Salma Elboute. She participated in programs at Lehigh@NasdaqCenter, including the Startup Academy in the summer and the Silicon Valley Innovation Internship in fall. Salma plans to work in other countries and someday own her own business.
And soon she'll be getting there. This fall, thanks to an award for a Fulbright scholarship, she's headed to the United Arab Emirates. Once there, she'll conduct research on businesses owned by women.
"I'm super-excited," Salma says. "This is a nice first step for me."
Lidya Bekele going places, too. She took part in the Global Entrepreneurial Fellowship and this past semester took the popular "Women in Technology & Innovation" course. Now Lidya has accepted an offer from an environmental consulting firm. She'll soon start in its Cleveland office as an associate consultant.
Michael Pulcini also serves as a success story. This summer, "after an extremely busy final year of school," he says, he's going to take "some much-needed downtime." he says. Given the challenges ahead of him, that break will certainly come in handy. Come late August he'll be undertaking strategy consulting – core business operations division, if you please – for Deloitte.
No graduate appears more gung-ho about his upcoming official leap into the workplace than Jack Trevisan. "I learned so much during those weeks at the Startup Academy that I still apply to my life today," he says, "and now I'm more than ready to start my professional career."
No dust will be settling around Jack any time soon. Merely one month after graduation, he'll be moving to New York City. There, he'll kick off his career as an equity research analyst at Melius Research, a boutique firm started by a Lehigh alum and former managing directors at Barclays Bank.
Nick Owens likewise credits the Lehigh@NasdaqCenter for launching his upward trajectory. He says the Global Entrepreneurship Fellowship, among other programs, enabled him, during the critical final stages of an important job interview, to land a position at Paradox.
"I had to pitch a solution to a problem in HR by using conversational AI," Nick explains. Those listening liked what they heard. Nick will be moving to Scottsdale, Arizona to practice product management at an AI startup.
"I owe everyone at the Lehigh@NasdaqCenter a huge thank-you," he says. "My experience there helped focus me in the direction I was always going to go, and provided me with the resources to accelerate my journey. It taught me the skills to secure this job opportunity and feel equipped to go into this field straight from college."
Some graduates see commencement as a transition to further higher education. Kart Koneru aims to join either a start-up or a consulting firm in a technology risk position and possibly focus on cloud platforms. But first he'll pursue a Master of Science in Business Analytics, a new degree program at Lehigh University, this summer.  Likewise, Victor Cochrane is headed to Villanova Law this fall to study intellectual property and entrepreneurial law.
But most of the graduates will be breaking loose from academia. In July, for example, Dave Jha, who participated in the Global Entrepreneurial Fellowship, will be moving to Los Gatos, California. There, he'll start his new job at Netflix as a user interface engineer on its corporate security team. Next year Julia Duchossois will assume a role as a market research analyst at JM Search in King of Prussia, PA.
So go forth they all now will, these freshly minted alumni, shedding cap and gown, off into the workplace of the future, taking the hard-earned lessons learned – largely by doing – at the Lehigh@NasdaqCenter.
The timing for these transitions happens to be perfect. Employers plan to hire 26.6% more new grads from the class of May 2022 than they did the class of May 2021, according to the Job Outlook 2022 Report from the National Association of Colleges and Employers.
Let's congratulate these promising young professionals. Kudos to Kevin Gu, who later this summer will become a member of the tech consulting team at Accenture's flagship New York Innovation Hub. Bravo to Max Kemper, who in early September will take on a full-time consulting role in New York City with PwC. And best wishes to Ryan Heaton, who mentioned his Lehigh@NasdaqCenter internship at Modsy in his job interview with Citi and will soon be starting to work there.
Our message for the outward bound? We yield the floor to Oprah Winfrey. "Follow your passion," she said. "It will lead you to your purpose."
#     #     #
James Berneking is the innovation programs manager for Lehigh@NasdaqCenter